Residential VoIP service by your friendly experts
Our affordable plans are tailored to give you exactly what you need. Best of all, we include all our VoIP features with any plan, any customer. Save 50% or more compared to your traditional phone company, receive new features and control your phone time in flexible ways. Why wait any longer to drop your run-of-the-mill phone company?
Get more. Pay less. Order now.
---
Pick a plan
Simple, Affordable, All-inclusive
Value $8.97
Keep your number
Order Now
Unlimited Incoming Minutes
500 Minutes to North America
Premium Features Included
Hardware Included
NO Term Commitment
US & Canada Unlimited $17.97
Upgrade to Unlimited Calling!
Order Now
Unlimited Incoming Minutes
Unlimited Calls to North America
Premium Features Included
Hardware Included

NEW

FREE Shipping
NO Term Commitment
World Unlimited $23.97
Upgrade to 30 Countries!
Order Now
Unlimited Incoming Minutes
Unlimited to 30 Countries
Premium Features Included
Hardware Included

NEW

FREE Shipping
NO Term Commitment
Easy as 1-2-3
Our VoIP adapter arrives preconfigured & ready to connect.
Your home phones & our adapter, made for each other.
Our adapter arrives preconfigured, hassle-free, and packaged with everything you need to start taking advantage of our VoIP phone service. Provided by 1-VoIP, without you needing to worry about upfront hardware costs. Works with any phone that uses a phone cable.

Your Home Phone Away From Home
Introducing our new mobile app, available now on iOS & Android.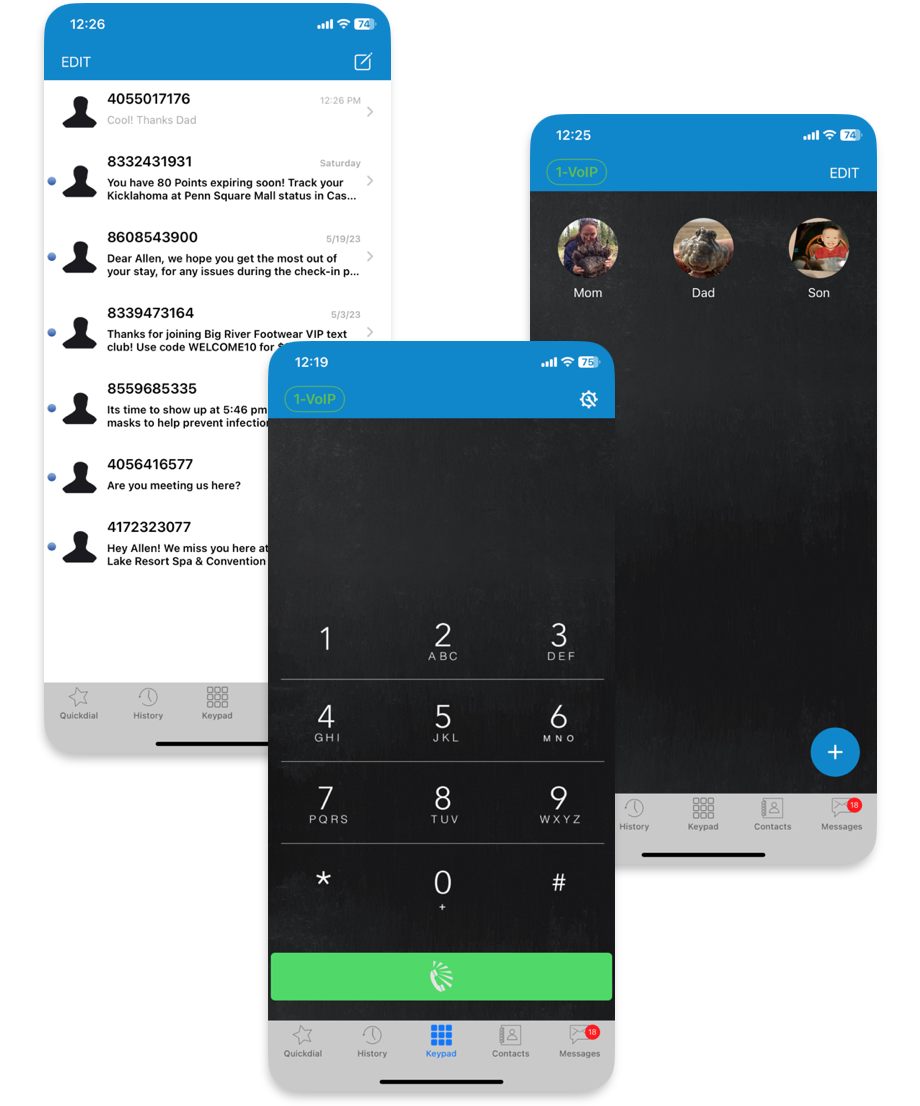 Phone calls & text messages with your home number, anywhere.
Make and receive calls on your home number, with the new and added benefit to send and receive text messages. Our new 1-VoIP app makes it even easier to connect with your friends & family. Used in conjunction with your home phones, and totally free, you can rest assured you're there for the important stuff, including your grandkids' pictures.
Stop Robocalls & Telemarketers for Good
POWERED BY

1-VoIP has partnered with Nomorobo.
Nomorobo stops unwanted telemarketers and robocalls from reaching your phone. With over 7,194,407 calls filtered, it's a perfect solution to have a better, safer phone service. Included with your Residential VoIP service.
Flexible
Easily toggle the feature at any time. In addition, report new phone numbers to the number listing for review.
Accurate
Carefully monitored and evaluated. Calls from schools or pharmacies are always allowed.
Inclusive
Brought to you by 1-VoIP, we've added another beneficial feature with your VoIP phone service.
VoIP
Features
---
Voicemail to Email
Easily access your voicemails via email attachment—our most popular feature of the four voicemail delivery options available.
Virtual Fax
Send PDF documents as faxes from the 1-VoIP member center.
Whitelist & Blacklist
You control your own accessibility from callers. Configure whole or partial phone numbers, then designate whether those callers are blocked or allowed to ring through to you.
Digital Call Forward
Take complete Control of your forwarded calls. Decide if you want them to forward to other phones in a certain order, or if you want them to ring all of the other forward phones simultaneously.
Anonymous Call Reject
Blocked Caller ID calls driving you crazy? Not anymore. Never receive a call from pesky "Anonymous" callers again by activating this "customer favorite" feature.
Digital Softphone
Use your 1-VoIP Service from your iOS or Android based device using our own 1-VoIP softphone available free on the Apple and Google Play store. Not only can you make and receive phone calls from it but you can also send and receive text messages and pictures over your 1-VoIP account.
Music on Hold
Give your callers something to sing along to while they're on hold.
Questions?
We love to talk. If you would like assistance or to complete your order over the phone, please contact our 100% US Based support team.
---
Learn more about VoIP and the benefits at our VoIP FAQ Page
Using our free tool, evaluate your internet connection with the VoIP Quality Test
A complete list of our included features, comes with any plan Residential Features Page